Aug

13
Tags
Related Posts
Share This
Fall 2016 Fashion Trends
In the fashion world for this year, we have noticed that 90s fashion has come back in style with a hint of the 70s decade. Urban Outfitters just dropped a Tommy Hilfiger collection including jeans that resemble the beloved 90s style. Just like Urban Outfitters, many stores are stocking their stores with the latest fall fashion trends. What trends will you see this upcoming fall? Here are eight fall 2016 fashion trends that your closet is hungry for!
Statement Chokers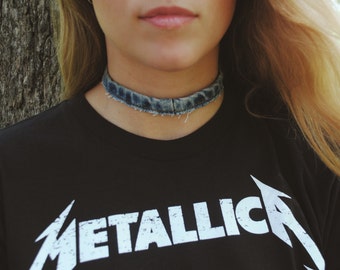 Chokers are a great accessory because you can wear them with any kind of outfit. You could sport a choker with a graphic t-shirt and a pair of denim shorts, or you could wear the choker with a dress. Chokers come in all different shapes, styles, and sizes but for fall this year the trend is a statement choker. Statement chokers are usually bigger chokers that really make your outfit.
Velvet
Everyone has recently had a big crush on velvet. Velvet is back whether you like it or not! You could see this trend in the form of dresses, suits, shoes, skirts, and even pants. My favorite form of the velvet in fashion is the velvet dress.
Slip Dresses
The slip dress is another 90s trend that is coming back into style. Some wouldn't think that this lingerie inspired look would be as popular today. But, slip dresses today still come in chic styles from in the 90s and they have evolved to meet the standards of fashion in 2016 as well. You can pair a slip dress with over the knee boots and a choker. Or, you could really give off the 90s vibe by wearing a t-shirt under your slip dress like these celebrities.
Bodysuits
Bodysuits have been on trend for a while, and the trend will stay for fall! You will never have to tuck in your shirt into your pants again. When bodysuits started to emerge in the fashion world, they only came in basic colors. Now, you will find printed bodysuits and long sleeved body suits.
Reworked Denim

Whether it is distressing jeans or adding patches to your denim like the designer brand Gucci has recently done, reworked denim will be big this fall. You will see different styles of denim all over the place. You might see cropped jeans that are flared, jeans with the ends of them frayed, or even two toned jeans! Denim is a trend that will never go away, but the style of denim changes over the years.
"Mom Jeans"

Another form of denim that you will see all over is mom jeans! Mom jeans are a vintage fit jean that are high-waisted with a looser fit around the thighs. You can get this look by searching through your local thrift store or by finding them in stores. Check out these mom jeans from Zara.
Pant Suits

Hilary Clinton might have had something to do with the pant suit trend this fall. Whether she did or she didn't, it is a trend that people aren't shying away from. In the past runway shows, designers had their models strut down the runway in pant suits of all colors. Check out these fashionable pant suits that you will see throughout fall.
Off the Shoulder Shirts
Another trend that you will see throughout the fall time is the off the shoulder shirt. Believe it or not, you can find an off the shoulder bodysuit as well. Wear your off the shoulder shirt with a pair of jeans and put a choker to complete the outfit!