Feb

10
Tags
Related Posts
Share This
Valentine's Day Sucks: Ideas for Couples Who Realize This
If the idea of sitting at a candlelit dinner holding hands with your significant other has you rolling your eyes or breaking into a sweat, this guide is for you. If you'd rather just hand your date a gift card than pick out something romantic (or better yet, send an e-gift card straight to their inbox so you're barely involved at all), then this guide is for you. Whether you're a new couple that's a bit freaked out by your first V-Day, or just a pragmatic person that realizes that February 14th isn't a good enough reason to inflate the price of roses 500%, there are many reasons to recognize the inherent suckiness of Valentine's Day. Unfortunately for those in relationships, this is a hard holiday to avoid. Here are some ideas for a Valentine's Day that doesn't create awkward intimacy or crush you under the weight of its lameness.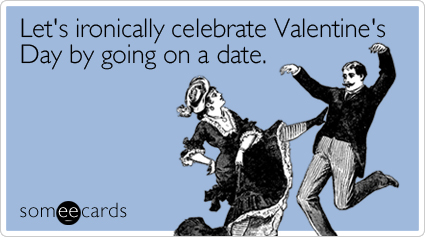 1. Go see the Lego Movie. Stop pretending you don't want to.
2. Head out to a bar that offers Karaoke. You'd much rather be known as a cute couple because of your amazing Sonny and Cher impressions than for the cheesy gifts you gave each other anyway.
3. Do something that makes you laugh. Watch a Seth Rogen flick instead of Nicholas Sparks, or hit the comedy club for a fun night out. There's nothing like laughter to break up awkwardness.
4. Two words: wine tasting. It's considered romantic enough for Valentine's Day, and there's wine involved.
5. Do something fun and silly, like bowling or roller skating. There's plenty of opportunity for flirting and friendly competition, but at the heart of these dates is some good old fashioned fun.
6. Cook together at home instead of going out for a fancy dinner. It's more personal, less expensive, and can be a lot of fun.
7. Don't buy roses. Don't buy chocolates. Whether it's a Valentine's Day cactus, a giant bag of skittles, or anything else, just don't be predictable.
8. Play some games together. Battle out in Rock Band or MarioKart at home, or hit up an arcade for a retro evening out.
9. Work out together (if you're into that kind of thing). Couple's yoga classes are all the rage, and they can be hot in more ways than one.
10. Do something that's unique to your relationship. That can mean watching the entirety of House of Cards Season 2 (my own personal Valentine's plans) or going to the museum. Nobody gets to tell you what is and is not romantic.