Oct

06
Tags
Related Posts
Share This
5 Hilarious Mascots That Shouldn't Exist
So maybe in high school you were a panther. Or a tiger. Or a spartan. Maybe you were a bear or a warrior or a wolf. Perhaps you were even a trojan, and you got to make hilarious jokes about condoms at every school function from 6th grade on. If you were any of these things or many more, that's perfectly normal. What's not normal is these ridiculous mascots. We get that you're trying to be different, but it's hard to find you formidable when we are too busy laughing.
Miller College Fighting Conifers
Haven't heard of Miller College? That's okay, few have. They're located in Battle Creek, MI, home of Kellogg Company and they have a mascot that fails to live up to the standards of Tony the Tiger, to say the least. Students at Miller College are proud to be Fighting Conifers. For those of you who need to brush up on your botany, a conifer is basically a pine tree. I don't know about you, but I doubt the ability of pine trees to really come out on top in any real battle, unless they're just fighting the elements. Not exactly the most fear-inducing mascot around.
Duke Blue Devils
Anyone with half a brain knows that the devil isn't blue. That's just ridiculous. Red is the color of fire and anger and all kinds of devilish things, and blue is way too calm and serene. Beside the terrible name, the Duke mascot looks nothing like a devil. The devil is evil incarnate, and this guy is downright jovial. Does having a goatee automatically make you the devil? We don't think so.
University of California Santa Cruz- Sammy the Slug
Oh really? You're going to intimidate opponents with a slug? Beside being completely hideous and somewhat reminiscent of a teletubby, Sammy the Slug is one of the least inspiring mascots out there. The "laid-back" spirit of Sammy, who is a banana slug to be specific, seems to channel the spirit of the students at UC Santa Cruz, who are mostly known for their love of cannabis.
Webster University Gorlocks
Not familiar with the gorlock? Probably not, because it's a MADE UP WORD. The gorlock is said to have "the paws of a speeding cheetah, horns of a fierce buffalo, and the face of a dependable Saint Bernard." And who is going to argue with them.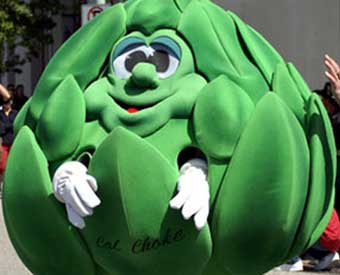 Scottsdale Community College Fighting Artichokes
Ah, at last. We've found someone to duke it out with the conifers. Sadly, artichokes are probably not even the most ferocious vegetable out there, so this is a bad mascot choice on all accounts.
This post was provided by Sam from the Orchard Inn, a bed and breakfast in Asheville, NC. Despite the ridiculousness of their non-sensical name, she is proud to support the Asheville professional ultimate frisbee team, the Cahoots.